Ogbourne St Andrew is a small village in the Kennet district of Wiltshire. It is near the village of Ogbourne St George the Church also serves the hamlets of Ogbourne Maizey and Rockley. More details can be found out about the parish at the official website.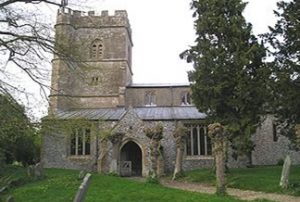 In the churchyard there is a Round Barrow excavated originally in 1880 by Maud Cunnington and more recently an archaeological survey was carried out in 2013.
Local primary level children usually attend Primary School in Ogbourne St George or go to Marlborough. Senior level children generally attend St John's School in Marlborough.
St Andrew's Church
The small church has its origins in the 12th century with features surviving in the north door (with chevron hood mould, mask terminals and a weathered head above) and details of the arcades. The piscina at the south side is a re-used capital. The chancel with its south door is 13th century. In the 15th century the west tower was erected, the clerestory added and the church was re-roofed. The church was restored by William Butterfield in 1847-49 and was listed as a Grade I building in 1958.
The tower has a ring of five bells including a fifteen hundred-weight tenor tuned to F, cast c.1450.
Rockley Chapel
Rockley had a chapel of ease in the 13th century, dedicated to St Leonard. It was demolished in the 16th century, but a new All Saints Chapel was built in 1872. However, this was closed in 1961.
Churchwardens In Ogbourne St Andrew
Giving For Ogbourne St Andrew
Please support the work and the fabric of the Church of St Andrew, by giving a donation here.