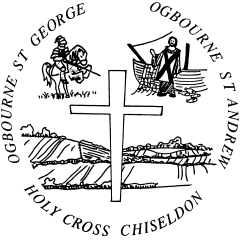 Welcome to the Ridgeway Benefice website, for news and events about the Church of England parishes of Holy Cross Chiseldon with Draycot Foliat, Ogbourne St Andrew with Rockley and Ogbourne St George. The Ridgeway Benefice is in the Marlborough Deanery in the Diocese of Salisbury, part of the worldwide Anglican Communion
Sunday 24th March, Lent 3:
8.30am, Holy Communion (BCP), St Andrew.
9.30am, Morning Worship, St George
10.30am, Parish Communion (in the Methodist tradition), Holy Cross.
(Readings: Isaiah 55: 1-9; Psalm 63: 1-9; 1 Corinthians 10: 1-13; Luke 13:1-9, these readings may differ in some of our churches)
Collect: Almighty God, whose most dear Son went not up to joy but first he suffered pain, and entered not into glory before he was crucified: mercifully grant that we, walking in the way of the cross, may find it none other than the way of life and peace; through Jesus Christ your Son our Lord, who is alive and reigns with you, in the unity of the Holy Spirit, one God, now and for ever. Amen.
There is a said communion service at Chiseldon Church Hall on Wednesday 27th March at 10.00am.
Baptisms, marriages and funerals in the benefice:
Baptism of Evie Hale, Sunday 24th March, 12.30pm, Holy Cross Chiseldon.
On this week:
Lent Groups on Monday 25th March (session 3). Chiseldon Church Hall, 7.30pm-9.00pm. Refreshments from 7.15pm. There is also a group on Wednesday 27th after the 10.00am service.
Save the date:
Ogbourne St Andrew Family Fun Quiz Night & Supper, Friday 5th April, 7.30pm, Ogbourne School.
Ogbourne St George Fete, Saturday 8th June.
Holy Cross Chiseldon Fete, Saturday 29th June.
Sign-up or cancel your subscription to our Weekly Newsletter
Meet our Clergy Team here.
Friends Of Holy Cross website: www.friendsohc.org.uk
Diocesan Links
Errata
To contact us regarding any errata or new content that you want to be added about groups and events within the Benefice, links to other web sites etc. click here.