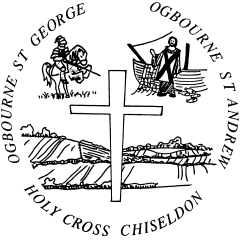 Welcome to the Ridgeway Benefice website, for news and events about the Parishes of Holy Cross Chiseldon with Draycot Foliat, Ogbourne St Andrew with Rockley and Ogbourne St George. The Ridgeway Benefice is in the Marlborough Deanery in the Diocese of Salisbury, part of the worldwide Anglican Communion.
Sunday 18th November
Second Sunday before Advent:
8.30am, Holy Communion (BCP), Holy Cross.
9.30am, Parish Communion, St George.
10.30am, Morning Worship, Holy Cross.
10.30am, Cafe Church, St Andrew.
(Readings: Daniel 12:1-3; Psalm 16; Hebrews 10: 11-14 [15-18] 19-25; Mark 13: 1-8, readings may differ in different churches)
Collect: Heavenly Father, whose blessed Son was revealed to destroy the works of the devil and to make us the children of God and heirs of eternal life: grant that we, having this hope, may purify ourselves even as he is pure; that when he shall appear in power and great glory we may be made like him in his eternal and glorious kingdom; where he is alive and reigns with you, in the unity of the Holy Spirit, one God, now and for ever. Amen.
There is a said communion service at Chiseldon Church Hall on Wednesday 21st November at 10.00am.
Baptisms, marriages and funerals in the benefice:
Baptism of Zophia Lamb, Sunday 18th November, 12.30pm, Holy Cross Chiseldon.
On this week:
Save the date:
Holy Cross Christmas Craft Fete, Saturday 1st December.
Carol singing at the Chiseldon nursing homes, Thursday 13th December.

2.30pm at Sea Horses, Draycot Rd,
3.30pm at Downs View, Badbury).

Carol singing in Chiseldon, Thursday 20th December, 6.00pm. Meet at Oakley's Spar.
 Meet our Clergy Team here.

Friends Of Holy Cross website: www.friendsohc.org.uk
The Diocesan e-bulletin:
If you would like to receive the e-bulletin please subscribe using the following here.
Diocesan Grapevine:
If you would like to receive this bulletin, please subscribe here.
To contact us regarding any errata or new content that you want to be added about groups and events within the Benefice, links to other web sites etc. click here.