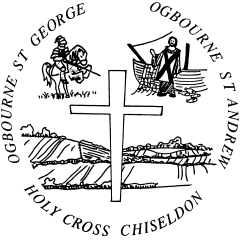 Welcome to the Ridgeway Benefice website, for news and events about the Church of England parishes of Holy Cross Chiseldon with Draycot Foliat, Ogbourne St Andrew with Rockley and Ogbourne St George. The Ridgeway Benefice is in the Marlborough Deanery in the Diocese of Salisbury, part of the worldwide Anglican Communion
Sunday 22nd September, Trinity 14:
8.30am, Holy Communion (BCP), St Andrew.
10.30am, Parish Communion (in the Methodist tradition), Holy Cross. This service will be in the Church Hall.
6.00pm, Evensong (BCP), St George.
(Readings: Amos 8: 4-7; Psalm 51: 1-11; Psalm 113; 1 Timothy 2: 1-7; Philippians 2: 6-11; Luke 16: 1-13, these readings may differ in some of our churches)
Collect: Almighty God, whose only Son has opened for us a new and living way into your presence: give us pure hearts and steadfast wills to worship you in spirit and in truth; through Jesus Christ your Son our Lord, who is alive and reigns with you, in the unity of the Holy Spirit, one God, now and for ever. Amen.
There is a said communion service at Chiseldon Church Hall on Wednesday 25th September at 10.00am.
Baptisms, marriages and funerals in the Benefice:
Thanksgiving service for Heather Butcher, Monday 7th October, 2.00pm, Holy Cross Chiseldon.
Funeral of Lisa Warner, Tuesday 8th October, 11.00am, Holy Cross Chiseldon.
Funeral of Mary Roberts, details to follow.
Save the date:
Chiseldon Harvest Supper, Friday 11th October, 7.30pm.
Sign-up or cancel your subscription to our Weekly Newsletter
Safeguarding Policy: The Ridgeway Benefice takes its responsibilities surrounding the safeguarding of children, young people, and adults who may be at risk very seriously, and works in partnership with the Diocese of Salisbury to ensure that we work in accordance with best practice at all times. Our Parish/Benefice Safeguarding Policy (which is that of the Diocese of Salisbury and the National Church) can be viewed and downloaded here. If you have any Safeguarding questions or concerns you can contact our Benefice Safeguarding Officer, Heather Powell on 01793 740369 or email [email protected].  Alternatively you can contact the Diocesan Safeguarding Adviser, on  07500 664800 or email [email protected]
Meet our Clergy Team here.
Friends Of Holy Cross website: www.friendsohc.org.uk
Diocesan Links
To contact us regarding any errata or new content that you want to be added about groups and events within the Benefice, links to other web sites etc. click here.