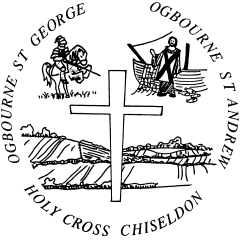 Welcome to the Ridgeway Benefice website, for news and events about the Church of England parishes of Holy Cross Chiseldon with Draycot Foliat, Ogbourne St Andrew with Rockley and Ogbourne St George. The Ridgeway Benefice is in the Marlborough Deanery in the Diocese of Salisbury, part of the worldwide Anglican Communion
Sunday 29th March, Lent 5 (Passiontide begins):
The church is closed but ministry still continues. I am available for pastoral care, practical support and advice by phone and email. Revd Roger Powell, 01793 740369.
Online resoures: https://www.churchofengland.org/more/media-centre/church-online
(Readings: Ezekiel 37:1-14; Psalm 130; Romans 8: 6-11; John 11: 1-45)
Collect: Most merciful God, who by the death and resurrection of your Son Jesus Christ delivered and saved the world: grant that by faith in him who suffered on the cross we may triumph in the power of his victory; through Jesus Christ your Son our Lord, who is alive and reigns with you, in the unity of the Holy Spirit, one God, now and for ever. Amen.
From the Gospel: In Martha we see a woman in the midst of grief, standing in a place of faith Yet she can be an inspiration to us in a number of ways, teaching us how to tame our own inner monsters. For one thing, we can be certain that, even when the worst happens, whatever that may represent in our own life, Christ will be with us. In addition, we can know that, even in the darkest moments, we can boldly stand before God and express our doubts and disappointments alongside our hope and faith, without being afraid or ashamed of thinking wrong thoughts. It is safe to open our heart to Jesus even when all seems lost and our feelings are mixed. Clarity and firmness of purpose can exist even in the confusion of grief and loss. In one hand she holds her life, with all its pain and bereavement, and in the other she holds her faith in God. God is still God. Faith is still faith. The path continues. Amen.
A prayer for all those affected by coronavirus: Keep us, good Lord, under the shadow of your mercy. Sustain and support the anxious, be with those who care for the sick, and lift up all who are brought low; that we may find comfort knowing that nothing can separate us from your love in Christ Jesus our Lord. Amen.
Sign-up or cancel your subscription to our Weekly Newsletter
Safeguarding Policy: The Ridgeway Benefice takes its responsibilities surrounding the safeguarding of children, young people, and adults who may be at risk very seriously, and works in partnership with the Diocese of Salisbury to ensure that we work in accordance with best practice at all times. Our Parish/Benefice Safeguarding Policy (which is that of the Diocese of Salisbury and the National Church) can be viewed and downloaded here. If you have any Safeguarding questions or concerns you can contact our Benefice Safeguarding Officer, Heather Powell on 01793 740369 or email [email protected].  Alternatively you can contact the Diocesan Safeguarding Adviser, on  07500 664800 or email [email protected]
Meet our Clergy Team here.
Friends Of Holy Cross website: www.friendsohc.org.uk
Diocesan Links
To contact us regarding any errata or new content that you want to be added about groups and events within the Benefice, links to other web sites etc. click here.