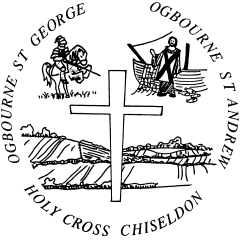 Welcome to the Ridgeway Benefice website, for news and events about the Parishes of Holy Cross Chiseldon with Draycot Foliat, Ogbourne St Andrew with Rockley and Ogbourne St George. The Ridgeway Benefice is in the Marlborough Deanery in the Diocese of Salisbury, part of the worldwide Anglican Communion.
Sunday 23rd September, Trinity 17:
8.30am, Holy Communion (BCP), St Andrew.
10.30am, Parish Communion (in the Methodist tradition), Holy Cross.
6.00pm, Evensong (BCP), St George.
(Readings: Wisdom 1: 16-2:1, 12-22 or Jeremiah 11: 18-20; Psalm 54; James 3: 13-4:3, 7-8a; Mark 9: 30-37)
Collect: Almighty God, you have made us for yourself, and our hearts are restless till they find their rest in you: pour your love into our hearts and draw us to yourself, and so bring us at last to your heavenly city where we shall see you face to face; through Jesus Christ your Son our Lord, who is alive and reigns with you, in the unity of the Holy Spirit, one God, now and for ever. Amen.
There is a said communion service at Chiseldon Church Hall on Wednesday 26th September at 10.00am.
Baptisms, marriages and funerals in the benefice:
Baptism of Harriet Murphy-Bucerzan, Sunday 23rd September, 12.30pm, Holy Cross Chiseldon.
Save the date:
Holy Cross Harvest Supper, Friday 12th October.
Ogbourne St Andrew Quiz Night, Thursday 18th October.
Ogbourne St Andrew Christmas Fayre, Saturday 24th November.
Holy Cross Christmas Craft Fayre, Saturday 1st December.
See our full calendar of events here.
Meet our Clergy Team here.
Friends Of Holy Cross website: www.friendsohc.org.uk
The Diocesan e-bulletin:
If you would like to receive the e-bulletin please subscribe using the following here.
Diocesan Grapevine:
If you would like to receive this bulletin, please subscribe here.
To contact us regarding any errata or new content that you want to be added about groups and events within the Benefice, links to other web sites etc. click here.