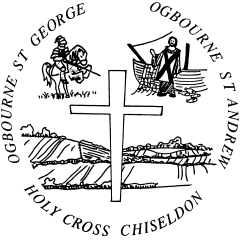 Welcome to the Ridgeway Benefice website, for news and events about the Church of England parishes of Holy Cross Chiseldon with Draycot Foliat, Ogbourne St Andrew with Rockley and Ogbourne St George. The Ridgeway Benefice is in the Marlborough Deanery in the Diocese of Salisbury, part of the worldwide Anglican Communion
Sunday 26th May, Easter 6:
8.30am, Holy Communion (BCP), St Andrew
10.30am, Parish Communion (in the Methodist tradition), Holy Cross
6.00pm, Evensong (BCP), St George
(Readings: Acts 16: 9-15; Psalm 67; Revelation 21: 10, 22-22:5; John 14: 23-29 or John 5:1-9, these readings may differ in some of our churches)
Collect: God our redeemer, you have delivered us from the power of darkness and brought us into the kingdom of your Son: grant, that as by his death he has recalled us to life, so by his continual presence in us he may raise us to eternal joy; through Jesus Christ your Son our Lord, who is alive and reigns with you, in the unityof the Holy Spirit, one God, now and for ever. Amen.
There is a said communion service at Chiseldon Church Hall on Wednesday 29th May at 10.00am.
Baptisms, marriages and funerals in the benefice:
Marriage of Giles Blanchard & Anna Horton, Saturday 25th May, 3.30pm, Holy Cross Chiseldon
Baptism of Colby Denton, Sunday 26th May, 12.30pm, Holy Cross Chiseldon
Funeral of Vi Ellis, Thursday 30th May, 2.00pm, North Wilts Crematorium.
On this week:
Deanery Ascension Day Service, Thursday 30th May, 7.30pm, St Mary's Marlborough.
Save the date:
Ogbourne St George Fete, Saturday 8th June.
Thy Kingdom Come. Pentecost Sunday, 9th June, 7.00pm, Salisbury Cathedral. An evening of inspiring worship and prayer.
Ogbourne St George Barn Dance, Friday 28th June.
Holy Cross Chiseldon Fete, Saturday 29th June.
Sign-up or cancel your subscription to our Weekly Newsletter
Meet our Clergy Team here.
Friends Of Holy Cross website: www.friendsohc.org.uk
Diocesan Links
Errata
To contact us regarding any errata or new content that you want to be added about groups and events within the Benefice, links to other web sites etc. click here.