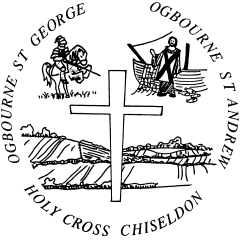 Welcome to the Ridgeway Benefice website, for news and events about the Church of England parishes of Holy Cross Chiseldon with Draycot Foliat, Ogbourne St Andrew with Rockley and Ogbourne St George. The Ridgeway Benefice is in the Marlborough Deanery in the Diocese of Salisbury, part of the worldwide Anglican Communion
Sunday 25th October, Last Sunday after Trinity :
8.30am, Holy Communion (BCP), St Andrew
10.30am, Methodist Service, Holy Cross
4.00pm, Evening Prayer (BCP), St George
Please remember clocks go back!
Church opening for private/individual prayer:
St George: Wednesdays and Sundays, 9.00am-5.00pm
Please follow the directions with regard to social distancing and hand sanitizer etc. If you feel unwell or have any of the Covid-19 symptoms, please do not come to church. To comply with the NHS 'Test & Trace' program, your attendance in church will be recorded and kept for 21 days. The wearing of face coverings  in church is now mandatory unless you have a medical condition which prevents you.
Readings: Leviticus 19: 1-2, 15-18; Psalm 1; 1 Thessalonians 2: 1-8; Matthew 22: 34-end.
Collect: Blessed Lord, who caused all holy Scriptures to be written for our learning: help us so to hear them, to read, mark, learn and inwardly digest them that, through patience, and the comfort of your holy word, we may embrace and for ever hold fast the hope of everlasting life, which you have given us in our Saviour Jesus Christ, who is alive and reigns with you, in the unity of the Holy Spirit, one God, now and for ever. Amen.
There is a said communion service at Chiseldon Church on Wednesday 28th  October at 10.00am.
Chris Stratta is the South Central Regional Manager for The Leprosy Mission:
To find out more, please do use the links below and contact me with any questions on 01733 516092 or email me at [email protected]. I would love to hear from you!
To watch a short video of our work to provide prosthetic legs for people affected by leprosy in Nigeria, please click here: https://vimeo.com/461765751/df46c14dc4
Please do join me in praying for people affected by leprosy. To find resources on prayer and to give to transform lives, please use our website: www.leprosymission.org.uk
If you would prefer not to give online, please use either of these options:
You can send a cheque addressed to 'The Leprosy Mission' to me: Chris Stratta, 307 London Road, Headington, Oxford, OX3 9EJ.
You can give over the phone by calling our team at the Peterborough Office on 01733 370505. Please say that you are from Holy Cross Chiseldon when you call.
Thank you so much for transforming the lives of people with leprosy. May God bless you."
Friends of Holy Cross website: www.friendsohc.org.uk
'Daily Hope' phone line 0800 804 8044: This is a CofE initiative to provide access to worship, prayer and reflections. The line runs for 24 hours a day and is free to call.
Online church resources: https://www.churchofengland.org/more/media-centre/church-online
A prayer for all those affected by coronavirus: Keep us, good Lord, under the shadow of your mercy. Sustain and support the anxious, be with those who care for the sick, and lift up all who are brought low; that we may find comfort knowing that nothing can separate us from your love in Christ Jesus our Lord. Amen.
Sign-up or cancel your subscription to our Weekly Newsletter
Safeguarding Policy: The Ridgeway Benefice takes its responsibilities surrounding the safeguarding of children, young people, and adults who may be at risk very seriously, and works in partnership with the Diocese of Salisbury to ensure that we work in accordance with best practice at all times. Our Parish/Benefice Safeguarding Policy (which is that of the Diocese of Salisbury and the National Church) can be viewed and downloaded here. If you have any Safeguarding questions or concerns you can contact our Benefice Safeguarding Officer, Heather Powell on 01793 740369 or email [email protected].  Alternatively you can contact the Diocesan Safeguarding Adviser, on  07500 664800 or email [email protected]
Meet our Clergy Team here.
Friends Of Holy Cross website: www.friendsohc.org.uk
Diocesan Links
To contact us regarding any errata or new content that you want to be added about groups and events within the Benefice, links to other web sites etc. click here.