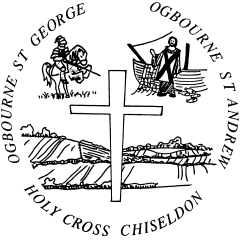 Welcome to the Ridgeway Benefice website, for news and events about the Church of England parishes of Holy Cross Chiseldon with Draycot Foliat, Ogbourne St Andrew with Rockley and Ogbourne St George. The Ridgeway Benefice is in the Marlborough Deanery in the Diocese of Salisbury, part of the worldwide Anglican Communion
Sunday 10th November, Remembrance Sunday:
10.15am, Remembrance Service, St Andrew
10.45am, Remembrance Service, Holy Cross
10.45am, Remembrance Service, St George
No Holy Communion services today.
(Readings: Job 19: 23-27a; Psalm 17: 1-9; 2 Thessalonians 2: 1-5, 13-end; Luke 20: 27-38)
Collect: Almighty Father, whose will is to restore all things in your beloved Son, the King of all: govern the hearts and minds of those in authority, and bring the families of the nations, divided and torn apart by the ravages of sin, to be subject to his just and gentle rule; who is alive and reigns with you, in the unity of the Holy Spirit, one God, now and for ever. Amen.
There is a said communion service at Chiseldon Church Hall on Wednesday 13th November at 10.00am.
Baptisms, marriages and funerals:
Funeral of Marion Humphries, Monday 11th November, 1.30pm, Christchurch Swindon.
On this week:
Armistice Day Service, Monday 11th November, 10.50am, New Road War Memorial, Chiseldon.
Save the date:
Chiseldon Christmas Fayre, Saturday 16th November.
Ogbourne St Andrew Christmas Fayre, Saturday 30th November.
Ogbourne St George Church History Guide Launch, Sunday 1st December, 2.30pm. Admission free.
Chiseldon Advent Lights Service, Sunday 1st December, 4.00pm.
Sign-up or cancel your subscription to our Weekly Newsletter
Safeguarding Policy: The Ridgeway Benefice takes its responsibilities surrounding the safeguarding of children, young people, and adults who may be at risk very seriously, and works in partnership with the Diocese of Salisbury to ensure that we work in accordance with best practice at all times. Our Parish/Benefice Safeguarding Policy (which is that of the Diocese of Salisbury and the National Church) can be viewed and downloaded here. If you have any Safeguarding questions or concerns you can contact our Benefice Safeguarding Officer, Heather Powell on 01793 740369 or email [email protected].  Alternatively you can contact the Diocesan Safeguarding Adviser, on  07500 664800 or email [email protected]
Meet our Clergy Team here.
Friends Of Holy Cross website: www.friendsohc.org.uk
Diocesan Links
To contact us regarding any errata or new content that you want to be added about groups and events within the Benefice, links to other web sites etc. click here.